Veteran startup investor Michael Moe is diving headfirst into a new education-focused venture while getting set for Part II of another one he launched last summer.
The Woodside-based founder of boutique investment bank Global Silicon Valley raised $225 million in an IPO for a "blank check" company called Class Acceleration Corp. (nyse:CLAS) on Friday, money he plans to use to take a yet-to-be-determined ed tech company public.
And hot on the heels of that, Moe is set to launch Startup BootCamp II next week, the next edition of his free virtual entrepreneurship school that features the likes of former Cisco Systems Inc. CEO John Chambers, venture investor Tim Draper, former MetricStream CEO Shellye Archambeau and NFL star-turned-entrepreneur Ronnie Lott as mentors.
"I wrote a white paper 25 years ago while I was at Montgomery Securities called 'The Dawn of The Age of Knowledge,' where I forecast the emergence of the knowledge economy and how the Internet was going to change everything," Moe told the Business Journal. "I predicted that education would be at the center of that knowledge economy. Fast forward to now and that is obviously undoubtedly true."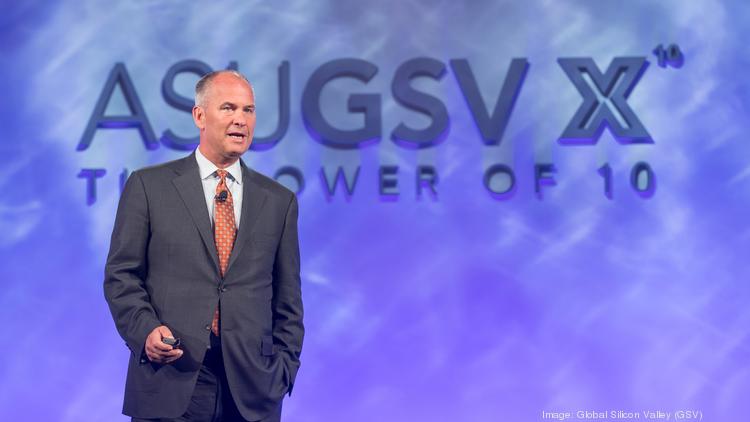 While Moe professes growth and entrepreneurship as his passions, he has long predicted that education would be huge at some point.
"It already is in terms of the total amount spent on it. It's even with health care as a $7 trillion sector," he said. "But from a venture-backed perspective, the spend has been less than $200 billion."
The pandemic has accelerated the growth of digital education and the venture-backed companies pioneering it, Moe said.
"That isn't likely to change in a big way when students are able to return to classrooms. The pandemic has accelerated the future to the present," he said. "About 1.6 billion students globally were instantly put online. That's 20% of the world population that was thrown into the deep end of the online learning pool and told to sink or swim. Some sank, some crawled to the edge of the pool and swore they would never go back in, but most got the hang of it and will never go back to the way it was done before. The genie is out of the bottle."
RECOMMENDED
Before the pandemic, Moe said he thought the digital education market would be a trillion-dollar market by 2034. "We now think that will happen in half that time. We see over $800 billion in opportunity in this in the next seven years," he said.
GSV has backed seven of the 14 unicorns in digital education, including Coursera, Master Class and Course Hero, so Moe said he wouldn't rule out one of them being who his SPAC takes public: "It's possible. We're very proud of the companies we invested in," he said.
"I think the surge in SPACs is a strong signal that there has been a fundamental shift in the IPO market, which has been broken for so long," Moe said. "Unquestionably, there is going to be some disappointment. But the flip side is that over the past 20 years, the number of publicly traded companies is down by 50% at the same time that there is 10 times the amount of private money backing new companies."
"If I were to guess, five or ten years from now, the number of companies going public via SPACs will be much bigger than it is today," he said. "What's happened here in the last couple of weeks is definitely not sustainable. There will be a pause at some point but I think this will be a longterm trend in how people go public."
Partnering with Moe on the SPAC are Joseph Parsons and Robert Daugherty
Partnering with him on Startup School II are American City Business Journals (the parent company of the Silicon Valley Business Journal), Silicon Valley Bank and a number of other schools, organizations and businesses.
The program kicks off with six weeks of online sessions and affinity group meetings on Monday, followed by a week of demos in which founders get to pitch their ideas to investors. Registration is still open and students can enroll at the website of GSV Startup Bootcamp II.
"We did last year's bootcamp literally a couple of weeks after we had the idea," Moe said. "I wanted to do something because things were so messed up, with millions of people put out of work and college graduates going into a jobs market that didn't exist, along with all of the racial and social unrest."
Participants ranged in age from an 11-year-old girl from Indiana to 70-somethings from various places. There were 5,000 people from 65 countries who registered and about 500 who stuck with it to the end.
"My thesis going into this was that that there would be a lot of 20-somethings involved. We had them but there were also a-lot-of-somethings from every corner of the earth," Moe said.
The takeaway?
"We certainly learned how desperately people wanted to be in control of their life, have hope and be entrepreneurs," Moe said. "Because of that we decided that we have to keep this going."
Source: Silicon Valley Business Journal – Michael Moe, fresh from raising $225M for education-focused SPAC, set for another free Startup Bootcamp